Endurance racing: when running gets boring
Renowned Spartan Endurance Krypteia (leader) Rob Barger tells how he diverged from traditional running to endurance racing. Picked as a last-minute teammate to compete in the Ragnar long-distance relay race in Las Vegas (2009), Rob got quickly bored by the repetitive nature of running.
Looking for more stimulating alternatives, Peak Races' Death Race survivor discovered the stimulating variety offered by obstacle course racing and registered to his first OCR event en 2012: a Spartan Super (10k+) race in California… which went terribly bad. The humility lesson learned through this awakening challenge motivated Rob Barger to seek similar life-changing experiences for the betterment of his personal development.
Hence, on the following New Year's Eve (2012), Barger – creator of the Redpath Performance Group – was sweating it in Las Vegas, while the vast majority of "normal" human beings were partying in casinos. Pushing his limits, fighting to find his purpose, Rob performed his very first endurance race with GoRuck. Rob remembers rucking down Vegas on the morning of January 1st (2013), all muddy and dirty, walking across hungover people on the Strip.
"I could not think of a better way to spend New Year's Eve, than to be face down in the mud, doing push-ups with 15 total strangers."

– Rob Barger on his New Year's experience with GoRuck
Death Race: the ultimate experience towards a fulfilling life
Only 18 months into his OCR journey and a couple of GoRuck races in the books, Rob Barger – co-inventor of the Hurricane Heat 12-Hour event (HH12HR) at Spartan Endurance – participated in one of the most extreme endurance challenges on the planet: the dreaded Death Race (Peak Races/Spartan). The 60-hour-plus empowering suckfest that is the DR was experienced by Rob as both participant and co-leader. Finisher of the GoRuck RTL, Barger recalls the difficulties with co-leading an unpredictable event such as the Death Race, especially when Spartan CEO Joe DeSena gets involved… and changes plans on the go, which is called by the leaders: "Being sucked into the Joenado".
For a participant, the Death Race is the paramount opportunity to overcome one's self-limiting perspectives, achieve what one thought impossible and learn powerful, meaningful self-help lessons which one may apply in creating a better life for oneself.
3 insightful tips to survive the Death Race and/or kick ass in Life.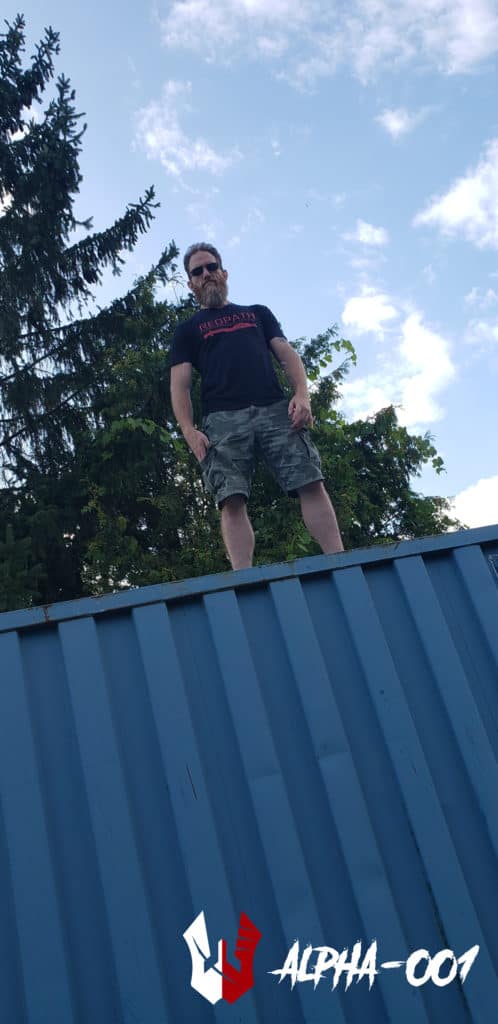 #1 | Sensei says: Don't take it seriously.
While preparing to co-lead Warrior Endurance's inaugural race in Montréal, Qc, Canada (Alpha-001), Rob humbly reminds us that we should not take Life too seriously, as nobody gets out of it alive. In regards to arduous challenges such as the Death Race, Barger indicates that the primary goal of the DR is to break participants emotionally, physically and mentally: by taking every challenge with a good attitude, a death racer increases his/her chances at surviving the event, better and wiser.
#2 | Sensei says: Train a little bit of everything.
Certified CrossFit coach, Rob suggests any Death Race pretender to vary his/her training methods and to tweak workout routines in order to make them more difficult. Per example, doing a Burpee Mile is tough, but doing a Sandbag-Toss Burpee Mile is more difficult. Developing all-around athletic and mental skills is also key in preparation for the Death Race… or to efficiently overcome the random obstacles we meet in Life.
#3 | Sensei says: Be able to perform under extreme fatigue
Veteran endurance racer, Rob cautions that the Death Race is renowned for imposing mental challenges under duress, at the worst possible times. Barger advises to not overthink required tasks and to accept instructions as they come. In essence, one has to quickly master how to "game the [Death Race] system".
In one's everyday routine, that might translate into being able to control one's emotions while adequately tackling hardship, disappointment and failure, regardless of the accumulated fatigue from one's 9-to-5 job.
Spartan Death Race video (Global News)