Former radio personality on XM Satellite Radio, Sensei Pascal is a passionate martial artist, relentless entrepreneur and active adventurer. Film Studies essayist (Oxford Brookes University), he also wears the hats of motivated fitness coach, enthusiastic mountaineer, amateur film director, aspiring comedian and insatiable student of the human experience.
Master of Kenpo Karate and WKC World Championships silver medallist (2017), he dedicates himself to the betterment of others. His humble vocation is to support and guide people on their path to self realization.
Determined achiever, Sensei Pascal ran a marathon (Rimouski, Canada) and finished the Agoge extreme endurance race. Additionally, he completed the coveted Spartan Delta challenge and became the first Spartan Race Course Instructor in Canada.
Beginning his radio career at age 18, Sensei Pascal became one of the first French Canadian collaborators of the UFC. He interviewed such MMA legends as Georges St-Pierre, Dominick Cruz, Michael Bisping, Quinton Jackson and Frankie Edgar. Huge fan of hard rock and metal music, he discussed with world-renowned bands Rammstein, Korn, Disturbed, Deftones, Godsmack and others.
Wanna know more ? Here's his complete mediagraphy.
Grab a couple of peanuts and read on, my friend.
---
Humble beginnings inside an Amerindian shack
Born and raised in Quebec City, Canada, Pace (Sensei Pascal's former radio nickname) started his radio career on CIHW 100,3 FM (1998), a public station located in an Amerindian village. The 18-year-old rocked Friday nights on the Extreme Attitude show, spinning new metal songs and trying out some corky comedy.
Wanna talk "humble" ? The CIHW radio station was, in fact, a small shack on which the broadcast antenna was attached… Sensei Pascal remembers the old radio console, its huge dials, CD players skipping songs on-air and a mandatory quota of traditional Amerindian songs to be played hourly. Everything to get top ratings.
Freshly graduated from the Quebec Radio and Television College (2001), Pace got on the newly launched CIMI 103,7 FM station (Quebec City). Promoting a dynamic hard rock format, CIMI FM inspired reinvention and was the proper environment to host Sensei Pascal's signature comedy show: Pace's Playground (Le Terrain de Jeux de Pascal). Teaming up with his best friends, Pace produced arguably the most entertaining radio show in the market on Friday nights. The CIMI era saw the birth of key characters of the show: the Scrotum Family, Doctor Poopoo and Uncle Gravel. We swear the station's yellow walls did not provoke any seizures during the production of these shows.
"As humans, it is our responsibility to realize our full potential. Then, it is our duty to share the strength we forged and empower others. Like others empowered us on our path. "

– Sensei Pascal Déry, forever white belt
From eye pokes to on-air jokes (again)
Sensei Pascal puts broadcasting on pause. The allure of spandex tights got him to pursue another dream of his: to become a professional wrestler. While taking bumps and pile drivers at the Killer Kowalski Wrestling School in Boston, MA (RIP, Mr. Kowalski), Pace got the major league call from Radio Énergie (CHIK 98,9 FM), a Top 40 radio station in Quebec City.
Consequently, a new one-man version of the Pace's Playground radio show started in August of 2004 and it became an instant hit. The weeknight comedy program introduced listeners to new characters: Basil the Comedian Goat, P.A. Announcer and the Clumsy Handyman. The Pace's Playground radio show was on its way to become #1 in its time slot… but, was unexpectedly pulled off.
Radio silence…
Satellite Radio Takeover
While on a 6-year hiatus, Pace revised his approach to radio and realized he had more than absurd comedy to offer the World. On the constant lookout for novel ways to create content, Pace embraced the emergence of satellite radio. The new medium was the right platform for a revamped concept of his signature radio show. Hence, the all-talk reboot of the Pace's Playground program debuted on XM Satellite Radio (XM172) in the summer of 2010. Discussing Politics, Economics, MMA, rock music, video games and Society in general, the show was amongst the pioneers of new media in Canada.
UFC French Canadian collaborator
Motivated by his passion for martial arts, Pace became one of the first French Canadian collaborators of the Ultimate Fighting Championship (UFC). In fact, Pace's Playground on XM Satellite Radio was the only French Canadian media to broadcast live from the UFC's marquee Fan Expo event in Toronto, Ontario (UFC 129, 2011).
Explosion in the broadcasting industry: the two satellite radio juggernauts – Sirius and XM – merge. As a fallout, a bunch of channels were cancelled. Unfortunately, XM172 did not make the cut. As a result, Sensei Pascal was – once again – radio homeless.
Out with the Meister, in with the Master
Constantly seeking to learn and evolve, the Pacemeister spent the following years focused on his development as a human being. Amongst a multiplicity of self-growth initiatives, he mainly dedicated his efforts to martial arts and endurance racing. Gradually, Pace embraced an improved version of himself and would now be focusing on helping others.
Accordingly, in 2012, Pascal opened a karate school on the south shore of Montréal, Canada and devoted his life to teaching. His work, effort and dedication to the personal development of his seïtos (students), young and old, was recognized at the 2016 Karate Sunfuki annual honorary ceremony: the honorific Sensei was bestowed upon a humbled Pascal.
New mission. Fresh project(s). Different reality.
Relentless entrepreneur, Sensei Pascal sought novel opportunities. In February of 2020, he opens the very first fitness center specialized in OCR (obstacle course racing) in the province of Quebec: SpartanFit. Located in the Greater Montréal area (Sainte-Julie), the innovative gym offers motivating functional training classes through an indoor obstacle course.
And then, just 5 weeks after SpartanFit's Grand Opening… COVID hit.
Ever a fighter, Sensei Pascal did not surrender to the series of lockdowns imposed by the Canadian government. In fact, he used the time off to travel across the country and produced a series of epic video workouts in the wild. These special outdoor sessions would be published on a new virtual training website of his creation: FitFlix.ca.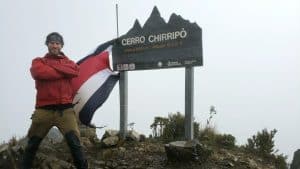 Determined to write a positive personal story through the pandemic, Sensei grabbed his backpack and volunteered in Costa Rica. Stationed in a humble village on the Pacific Coast, he got to help the local organization Verdiazul in their efforts to preserve sea turtles. Living in a 4×4 for 2 weeks after volunteering, Sensei traveled across Costa Rica. He chased volcanoes, discovered the culture and hiked the country's highest peak (12 536 ft): Cerro Chirripo.
As soon as Sensei Pascal got back on Canadian soil, inspired (and kinda tan), he could not wait to work on his new objectives: to write a book on self-growth and to launch a new podcast on the same subject.
Book in progress. Podcast, well… You're looking at it now, aren't you ? Osu !
Ice Cross World Championship | Pace's Playground Podcast (2015)