Growing Up The Troublemaker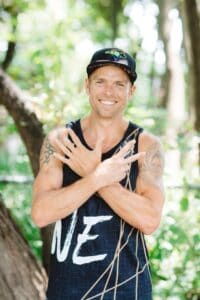 One Academy Lead Coach Jesse Bruce tells his troublesome youth which saw him grow as a negative influence in his Waterloo, Ontario neighbourhood. Through drugs, alcool use and mischief, Jesse was generating pessimism around him.
Ever a positive thinker, the Spartan Race champion considers his bad experiences the powerful driving force behind the strong desire he now has towards building a positive environment for other people to evolve in.
"Getting that feeling of conquering something hard, whether it's a mountain, an obstacle course, a marathon… That's basically what's been fuelling me for the past 10+ years."

– Jesse Bruce, Lead Coach at One Academy
The Turning Point
Personally sick of being a "loser" (Jesse's own words), the now University of Guelph-Humber Kinesiology alumnus decided to attend night classes to finish high school. From having no job and no driver's license, Jesse hustled and worked his way into college
The relentless efforts of the 35-time OCR gold medallist paid off as he got accepted to the University. Jesse Bruce's life changed when he joined the varsity cross-country team: that's when he discovered what belonging to a positive community meant.
From Alpha To Academy
Adding Business School to his academic resume, the 2017 Spartan Pro Team Member started his first business, driving a trailer from park to park in Toronto to coach bootcamp workouts. Bringing the experience indoors, Jesse Bruce created the Alpha OCR Training Center. Unfortunately, the first foray into the boutique gym industry failed.
Learning from his mistakes, Jesse surrounded himself with competent friends and partners who could contribute to the success of his new project: the One Academy training center, located in the Leslieville area in Toronto, Ontario, Canada. Benefiting from a tight-knitted community who followed him through his projects, Jesse Bruce's OA members quickly formed a strong Army, supporting each other.
3 Tips On How To Become Successful In Life and in Business
#1 | Sensei says: Feed On The Fear Of Failure
Listening Jesse, I got that the fear of failing at his attempt to get his life back together is actually what gave him the motivation to perform. Considering fear is a strong emotion, when exploited properly, it can become a potent ally and a powerful stimulator. Fear can help us push harder and longer in order to survive. It is also a theme I discussed with the "Fear Guru" Patrick Sweeney: watch or listen to the conversation now.
#2 | Sensei says: Surround Yourself With The Right People
Inspired by Jesse Bruce's business experiences, I learned that – in order to be really successful – you can't do everything on your own. Whether it be in Life or in Business, we should build on our passions and surround ourselves with people who complement them and support us. Success truly is a team effort.
#3 | Sensei says: Be Ready To Hustle
Corroborating Jesse's claim, I strongly agree that being an entrepreneur commands dedication. Whatever project or dream you have, be ready to absolutely commit to it and realize you're gonna have to make sacrifices. Social life, leisure time are just a few elements that will be heavily impacted if you truly want to be successful in your endeavours. Entrepreneurship is a non-stop lifestyle.
New Addiction – The Jesse Bruce Documentary